British Sports Cars from the Beginning
---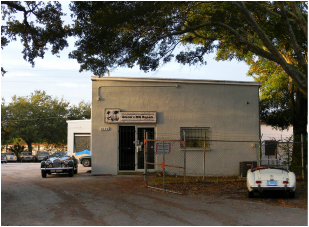 Our facility was originally built in 1985 as a space to detail vehicles for sale at the 3445 Car Store. When we moved into the property in 1999, we found a photo of an early MGB sitting in front of the building! You could say that our building has been involved in giving British classics a new lease on life from the start.

Now equipped with four lifts and enough interior space to shelter seventeen vehicles on the occasional rainy Florida day, our shop provides a versatile space for our team to complete restorations and repairs that stray from the ordinary.
---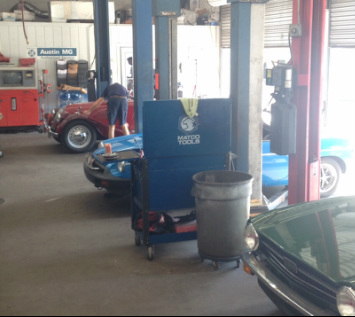 Our business is housed in several distinct areas. The front office and a waiting area are situated in our front room for customers waiting on quick repairs. Behind this room is our general repair and service shop where all of our daily repairs are performed. In the next area of bays is our engine building area and a space to dismantle and reassemble larger projects and restorations. The back two sections of our main building are designated for body restoration and a paint booth.

Across the main parking lot is our parts room, a space where our new and used inventory for repairs and restorations are stored. High volume new and used items are stocked on the shelves to reduce wait time for routine repairs, while specialty parts are sourced and shipped in by our parts manager.
---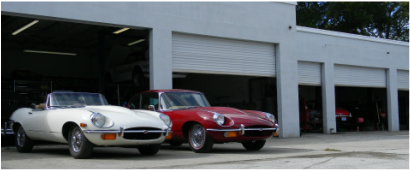 Accounting for the value and care invested in your British car, we monitor our premises with indoor and outdoor video surveillance cameras. This ensures that an eye is kept on each car night and day.

Keeping with the shift into the digital age, our team operates on MaxxTraxx, a modern service writing platform used by automotive repair shops to write estimates and repair orders, accurately manage time spent on each project and keep a proper inventory of parts. Behind our stellar personnel, we have found this to be one of the most valuable tools in running the ship here at Glenn's.
---
---
3130 39th Avenue North | St. Petersburg, Florida 33714 | Phone (727) 521-9890 | Fax (727) 521-9890
​E-Mail: glenn@glennsmg.com